To learn about modeling the etching of nanostructures, tune into this webinar featuring guest speaker Derek Bassett from Tokyo Electron America.
In semiconductor device manufacturing, the etching of material in an acid bath in order to make various nanostructures is a basic and important process used throughout the industry. The mathematical modeling of these kind of processes is an important tool, since it is difficult or sometimes impossible to directly observe the etching process in situ.
In this webinar, Derek will show how he uses diffusion and surface reactions to describe the etching of a solid material. He will show the modeling process live in the COMSOL Multiphysics® software as well as discuss how to take into account the change in shape of the simulation domain. Simulation results will be investigated, including the uniformity of etching adjacent structures, how long it takes for the material to be etched, the depth of the resulting trench and its effect on reactants' diffusion, and the influence of different process conditions.
The webinar will conclude with a Q&A session.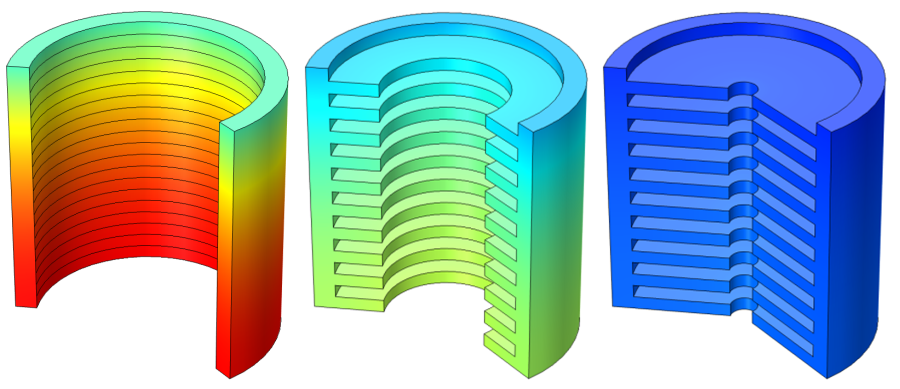 Numerical simulation of the change in shape from a phosphoric acid bath etching out horizontal disks in a nanodevice made of silicon nitride and silicon dioxide. From left to right: the liquid domain at the beginning of the etching process, liquid domain when the material removal is halfway through, and final liquid domain shape. The solid domain is not shown.
PRESENTERS:

Derek Bassett, Tokyo Electron
Derek Bassett graduated from Brigham Young University with a BS in chemical engineering in 2004 and earned his PhD in chemical engineering from the University of Texas in 2010. Since then, he has worked at Tokyo Electron in the Advanced Technology Group. His work involves modeling, designing experiments, and performing simulations in order to improve and optimize semiconductor production tools. Mostly, he focuses on the spraying, coating, etching, and drying of wafers and using fluid dynamics to better understand and optimize those processes.
Attendance is free. To access the event please register.
NOTE: By registering for this webinar you understand and agree that IEEE Spectrum will share your contact information with the sponsors of this webinar and that both IEEE Spectrum and the sponsors may send email communications to you in the future.​