If you are interested in modeling surface acoustic wave (SAW) sensors, then tune into this webinar with guest speaker David Greve of DWGreve Consulting.
SAW devices with a chemical-sensing overlayer provide for the selective sensing of particular gases. Sensing takes place due to electrical conductivity and mass density changes of the overlayer that change the propagation velocity of acoustic surface waves.
In this webinar, we will show how the COMSOL Multiphysics® software supports the design of SAW sensors by simulating the changes in the acoustic surface wave velocity due to changes in the overlayer. You will see a live demonstration of how to perform an eigenfrequency analysis of surface wave modes and derive the acoustic wave velocity, including how to specify model settings such as boundary conditions and material properties.
You can ask questions at the end of the webinar during the Q&A session.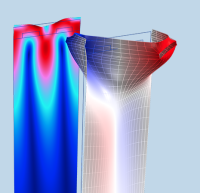 Numerical simulation of a SAW gas sensor. Resonance mode evaluated at 855 MHz, showing shape (background) and electrical potential distribution (foreground).
PRESENTERS:

David W. Greve, DWGreve Consulting
David W. Greve became an emeritus professor of electrical and computer engineering at Carnegie Mellon University. During his time there, he also held courtesy appointments in the Department of Materials Science and Engineering and the Department of Physics. David offers consulting services through DWGreve Consulting, located in Sedona, Arizona. Since 2000, he has used the COMSOL Multiphysics® software, incorporating simulation results in numerous publications and conference presentations. His research focus is on silicon integrated circuit technology, especially the deposition and characterization of thin films and epitaxial layers, semiconductor device physics, and sensors. He is the author of books and review articles on semiconductor devices and technology and has been a co-chair for the International Ultrasonics Symposium..

Mads Herring Jensen, COMSOL
Mads Herring Jensen is a technical product manager for acoustics who joined COMSOL in 2011. Before starting at COMSOL, he worked in the hearing aid industry for five years as an acoustic finite element expert. Mads has a PhD in computational fluid dynamics from the Technical University of Denmark.
Attendance is free. To access the event please register.
NOTE: By registering for this webinar you understand and agree that IEEE Spectrum will share your contact information with the sponsors of this webinar and that both IEEE Spectrum and the sponsors may send email communications to you in the future.​