In this webinar, an approach to accurately account for linear optical dispersion, nonlinear optics effects, and gain in light-matter interaction will be presented.
Alex Kildishev, a professor of electrical and computer engineering at Purdue University, will discuss the importance of generalizing the numerical description of light-matter interaction for more efficient time-domain multiphysics modeling in photonics. The need for generalization is illustrated by numerous physical effects, such as strong dispersion, saturation of absorption and reversed saturable absorption, as well as plasmon-enhanced stimulated and spontaneous emission in optical materials.
Time-domain multiphysics simulations in photonics are critical, as they provide information not attainable otherwise. Prof. Kildishev will show how to augment current mathematical models by including an additional set of custom equations, enabling highly accurate numerical simulations. Representative example cases will be shown.
A live demo in COMSOL Multiphysics® will be an important part of this webinar. The demo will include the multiphysics modeling of representative optical effects in the time domain. The webinar will conclude with a Q&A session.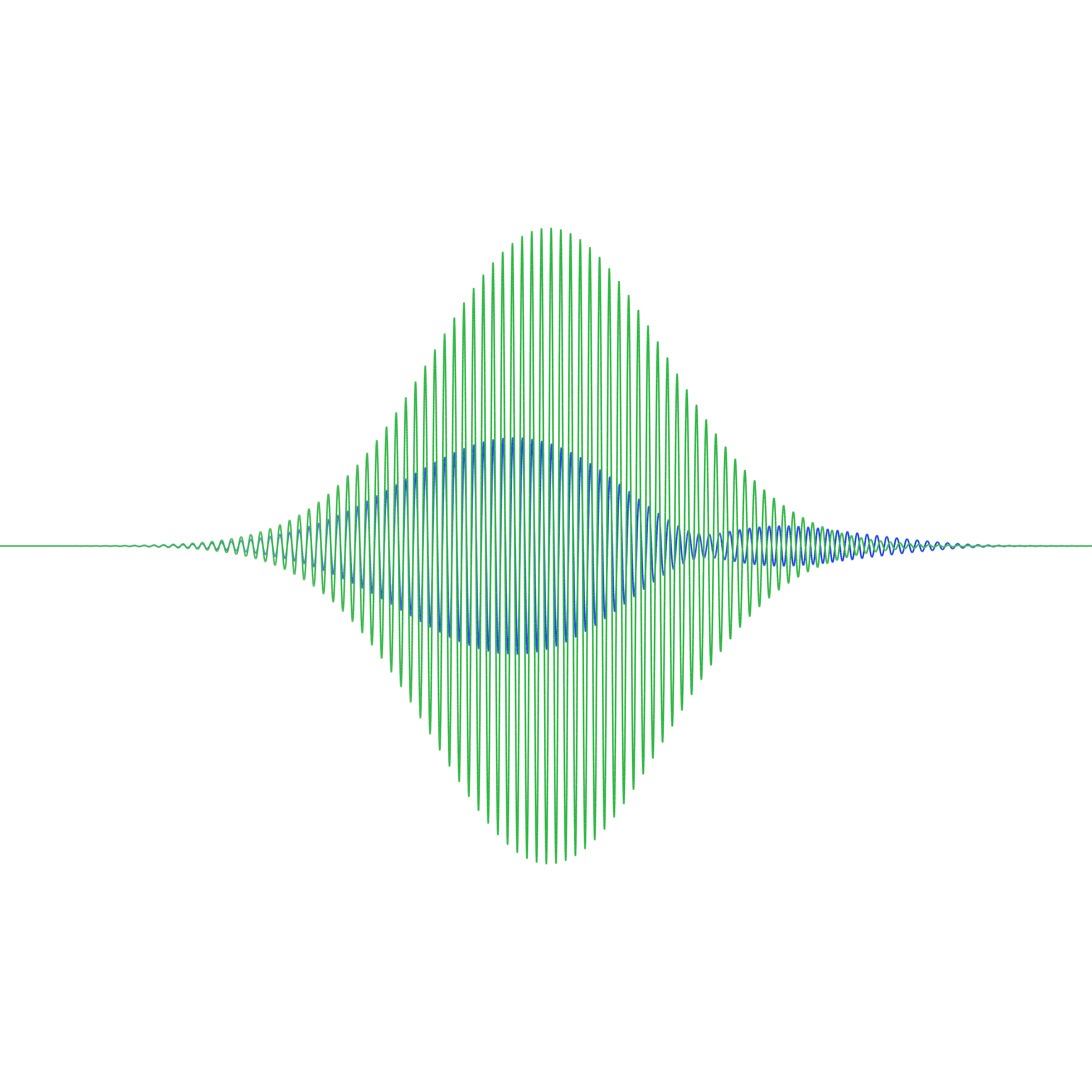 Exploring the light-matter interaction of reverse saturable absorption: the input Gaussian pulse (green curve) and the output pulse after absorption (blue curve).
PRESENTERS:

Alexander Kildishev, Associate Professor, Birck Nanotechnology Center, School of Electrical and Computer Engineering, Purdue University
Alexander Kildishev is an associate professor at the Birck Nanotechnology Center, School of Electrical and Computer Engineering, Purdue University. Prof. Kildishev belongs to a handful of world-leading experts in the field of numerical modeling of nanophotonic structures and devices in actual (real-life) environments. He has had a number of breakthrough results on negative-refractive-index metamaterials, optical artificial magnetic structures, loss compensation in metamaterials, plasmonic nanolasers, and optical metasurfaces as well as in the theory and numerical modeling of optical cloaks and hyperlenses. His publications (current h-factor WEB of Science 50, Google Scholar 60) include 6 book chapters and more than 120 publications in peer-reviewed journals, with more than 15,000 citations. He is a coinventor of 14 issued and pending patents (7 U.S. patents) and a coauthor of 11 online software simulation tools. The impact of his work is illustrated by the nanoHUB.org online resource, where a set of modeling tools for nanophotonics developed by his group has served more than 3000 users worldwide. Alexander has successfully employed the COMSOL Multiphysics® software in his research for more than 10 years.

Ulf Olin, Product Specialist, COMSOL AB
Ulf Olin is a product specialist within the electromagnetics group at COMSOL. Before joining COMSOL in 2011, he worked in optics research at the Institute of Optical Research in Stockholm and in optics and fiber optics research for various companies. He is also an associate professor (docent) of physics at KTH in Stockholm.
Attendees of this IEEE Spectrum webinar have the opportunity to earn PDHs or Continuing Education Certificates!
To request your certificate you will need to get a code. Once you have registered and viewed the webinar send a request to
webinarteam@ieeeglobalspec.com
for a webinar code. To request your certificate complete the form here:
https://innovationatwork.ieee.org/spectrum/
Attendance is free. To access the event please register.
NOTE: By registering for this webinar you understand and agree that IEEE Spectrum will share your contact information with the sponsors of this webinar and that both IEEE Spectrum and the sponsors may send email communications to you in the future.​