Magnetic couplings can be used to transfer torque from a dry to a wet environment without the need for shaft sealings that wear out and, in the end, need replacement.
During this webinar, Flemming Buus Bendixen, senior magnet specialist at Sintex, will discuss how to optimize the design of magnetic transmissions, considering geometric dimensions such as the air gap between the permanent magnets and the separator can. Parameters and figures of merit like the pressure and harshness of the operating environment, eddy current losses, power losses, can losses, and critical temperature are also considered.
Multiphysics simulation results are so accurate that Sintex considers them a substitute for physical prototypes. In fact, magnet experts turn their high-fidelity models into simulation apps that are deployed to their colleagues in other departments and customers. While simulation experts dedicate their time to new projects, colleagues and customers can quickly and independently develop custom coupling solutions, being sure that their results are accurate.
The webinar includes a live demo in the COMSOL Multiphysics® software during which the modeling of a magnetic coupling is shown and simulation results such as losses, maximum torque, and temperature distribution are analyzed. Calculations and measurements on different systems as well as new, creative, and innovative solutions from the R&D department at Sintex will be also discussed. The webinar concludes with a Q&A session.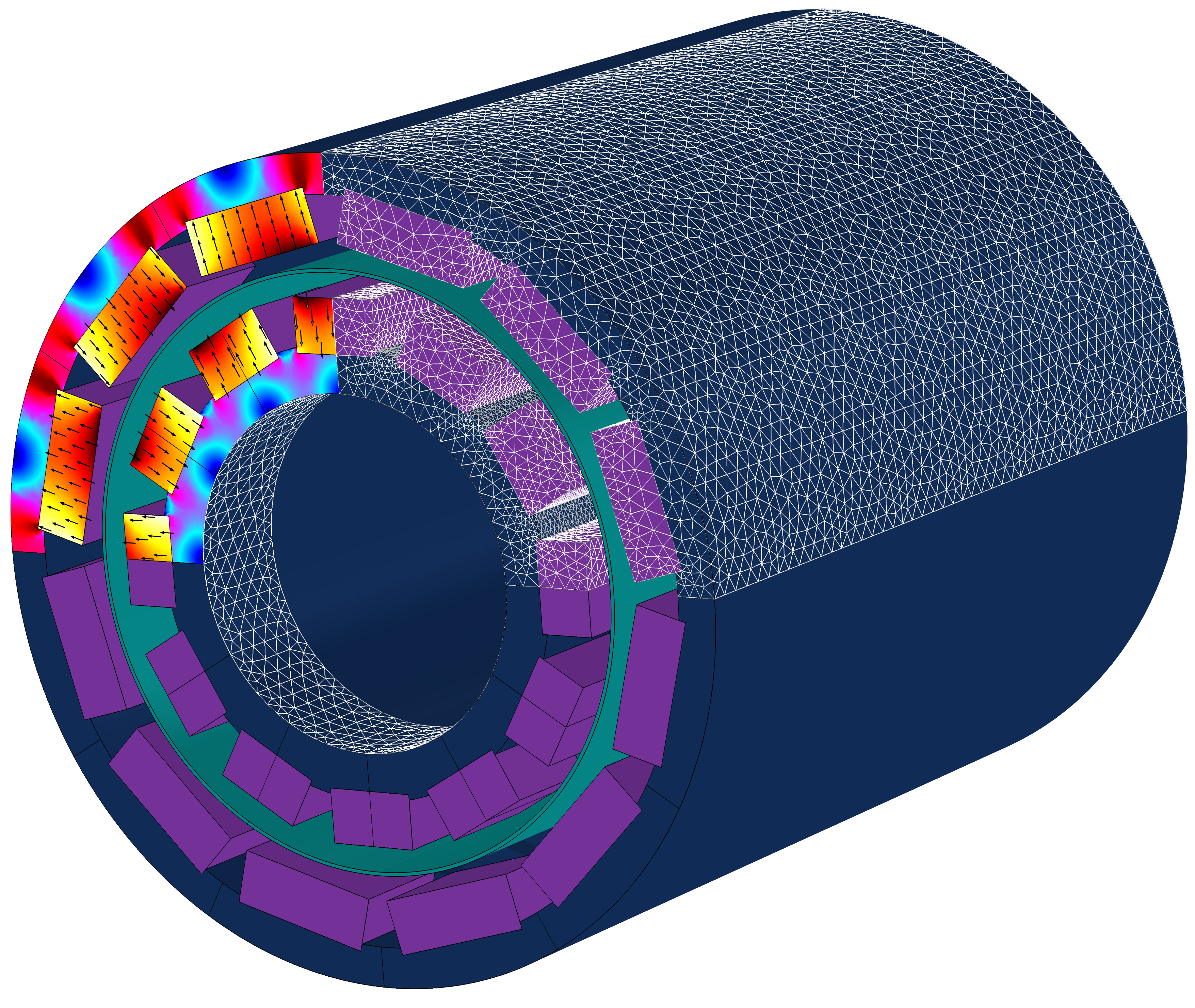 3D model of a magnetic transmission (the temperature distributions of the magnets, magnetic flux densities through the iron, and mesh are shown)
PRESENTERS:

Flemming Buus Bendixen, Senior Magnet Specialist,
Sintex A/S
Flemming Buus Bendixen received his MScEE in 1997 and his PhD in 2006 within motor design and control. He has worked with motor design and magnetic materials for Grundfos A/S as well as inverter design and motor control for Vestas A/S. Currently, he is a senior magnet specialist for Sintex A/S, working with sensors, machines, actuators, and many other applications involving magnetism. He has filed more than 15 different patent applications.

Durk de Vries, Product Specialist, COMSOL
Durk de Vries is a product specialist within the electromagnetics development group at COMSOL, working with the AC/DC, RF, and Wave Optics modules. Before joining COMSOL in 2013, he worked with research in RF and low-frequency EM at the Particle Accelerator Institute in Groningen and the University of Eindhoven.
Attendees of this IEEE Spectrum webinar have the opportunity to earn PDHs or Continuing Education Certificates! To request your certificate you will need to get a code. Once you have registered and viewed the webinar send a request to webinarteam@ieeeglobalspec.com for a webinar code. To request your certificate complete the form here: https://innovationatwork.ieee.org/spectrum/
Attendance is free. To access the event please register.
NOTE: By registering for this webinar you understand and agree that IEEE Spectrum will share your contact information with the sponsors of this webinar and that both IEEE Spectrum and the sponsors may send email communications to you in the future.​