If you want to learn about modeling piezoelectric fans, then tune into this webinar with Akshat Agarwal from the Efficient Energy Transfer group at Nokia Bell Labs.
As a technology promising to fill the gap between natural and forced convection heat sinks, piezoelectric fans create airflow through an oscillating motion induced by an applied AC voltage. In this webinar, we will discuss the use of the COMSOL Multiphysics® software to investigate the 3D flow field created by an oscillating cantilever beam immersed in ambient air. The application of such technology includes electronics cooling as well as the study of the wings of a flapping bird or UAV. The setup and techniques used to simplify the mathematical model and postprocessing methods will be discussed.
You can ask questions at the end of the webinar during the Q&A session.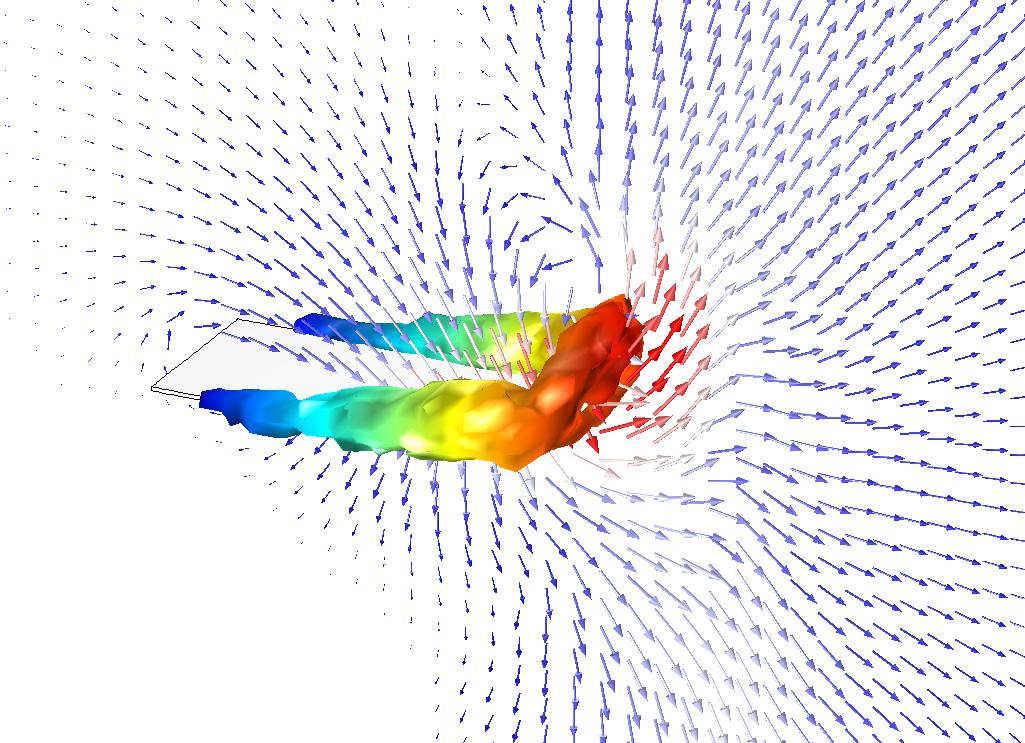 An oscillating beam, with arrows depicting the fluid velocity field and an isosurface of the lambda2 visualization criterion depicting the vortices shed due to fluid-structure interaction.
PRESENTERS:

Akshat Agarwal, Efficient Energy Transfer Group, Nokia Bell Labs
Akshat Agarwal is a member of the technical staff at Nokia Bell Labs in Dublin, Ireland. Akshat is part of the Efficient Energy Transfer Group at Bell Labs, where he uses his research experience in computational and experimental fluid dynamics to design cooling solutions for efficient thermal management. Akshat holds a PhD in mechanical engineering from Imperial College London.

Valerio Marra, Marketing Director, COMSOL
Valerio Marra is the marketing director at COMSOL in Burlington, MA. Previous roles include working in applications, technical support, and sales. Valerio received his PhD in fluid machines and energy systems engineering.
Attendance is free. To access the event please register.
NOTE: By registering for this webinar you understand and agree that IEEE Spectrum will share your contact information with the sponsors of this webinar and that both IEEE Spectrum and the sponsors may send email communications to you in the future.​